eAssistance Pro
If you believe in real-time interaction overcoming any physical boundaries, then nothing is better than eAssistance Pro live chat software! Just imagine within a matter of a few clicks, you would be able to provide online help chat support to customers that your competitors have never thought. The fact is that in recent years real time conversation via website live chat has gained enormous popularity. Live chat has provided the convenient mode to boost up the sales and improve customer support service where the users can send instant messages right from their browser.
Being an administrator of a website, you can very well add live chat to website instantly and have real time interaction with website's visitors on a one-to-one basis, providing increased interactivity and developing better trust with the visitors. eAssistance Pro is one such powerful live chat support software that could allows you have seamless interaction with customers, and at the same time track and report web-traffic analysis. It enables online businesses to engage and track visitors in real time. It is a feature-rich application that offers plenty of good features. Here's a look at some of the more prominent features and benefits that you can enjoy while using eAssistance Pro web chat software:
Real-time monitoring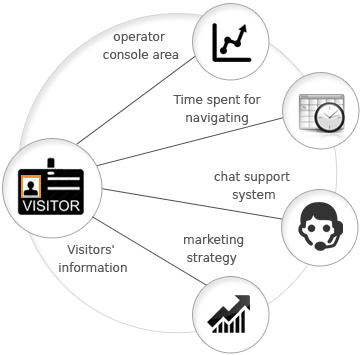 Real time visitor monitoring serves as the most suitable and effective measure preventing website abandonment by visitors. With eAssistance Pro, you can always acquire a win-win situation because it allows you to even track all visitors at once provided with information like visitors' IP address, host name, country, browser, pages visited, navigation history, search string and more. Moreover, if customer queries volume up for a certain time period, real-time monitoring allows you to take proper measures and meet the requirements. In addition, the software has got excellent feature of filtering chat request. In fact, you could easily prohibit vicious visitors from entering the chat room.
Live Chat Features
Live Chat is definitely the most convenient alternative to get connected with your customers. eAssistance Pro beside offering you with different options for integrating live chat services into your websites, also allows you assigning operators several departments at a time to respond to visitors' queries. However, using this live chat application, not just handling multiple queries from multiple visitors gets easier, but it also provides excellent option to export files to website visitors as well as receive files from them with no trouble. Other features include setting canned responses, apart from adding smileys or transferring files during chats.
Customization
The look of visitor chat window always helps in positioning the brand in an effective manner. This online customer support software also offer you with customization options to display the personalized images while using the application such as Chat icons, Chat Invitation images and Header image/Logo. There is lot more options for customizations, as you could even customize the visitor start chat form and feedback form. To make chat invitations more appealing and interesting, the software has provided its user with customizable Live Chat Buttons, System Messages, Greeting Messages and Canned Messages.
GEO Mapping
No doubt, eAssistance Pro has a clean interface that makes for a comfortable chat experience, but it is geo mapping function that help in better resource alignment. Apart from highlighting the areas on a global map layout, user using this online chat software can easily get to know the physical locations of visitors who are engaged in real-time chatting like country, regions, city, postal code, IP addresses. You don't just get to know who's where but at the same time identify who doing what and from where.
Easy Integration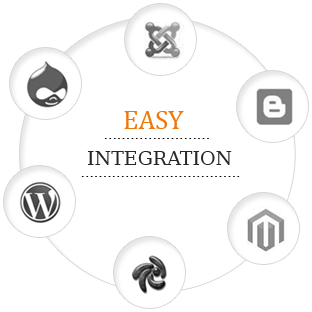 eAssistance Pro works extremely fine with any kind of website. The software easily gets integrated with your website and within a matter of a few minutes, you can start live chat. However, just in case you prefer to use a CMS like WordPress, Joomla or your website's backbone is dependent over different ecommerce platforms like Magento or Zen Cart; eAssistance Pro can always perform remarkably well in conjunction.
Mobile Support
eAssistance Pro works with most smartphones and connects you with your customers anywhere you go. Using this application, neither you have to spend time in front of your computer not got to lose any prospective lead. In fact, now you can enjoy the freedom to provide customer support from anywhere. The software allows you to get easily connect on your Windows Phone, iOS or Android device and answer live chat queries.
If you are running a business and considering to add chat to website, then definitely this eAssistance Pro live chat tool is highly recommendable.