Google Hummingbird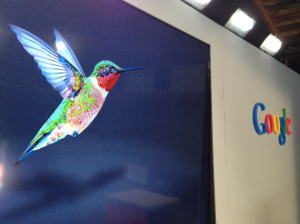 Google has been working lately on its voice search and recognition with variety of features inside. A latest release of Google Hummingbird takes its voice search to the next level with great enhancements and user experience.
Google search  is now taking full phrases and questions to understand what the user is actually asking it. Converting those questions into its own queries to bring the right results is the new enhancement from Google.
The great features of Google voice search work in your touch devices, phones and tablets too. Pull up your smart phone and ask Google "Who is the president of America?" Google will answer your question correct with current information. And if you immediately ask after then "How old is he?" Google will know that you are asking about Obama. Means your question is associated with Google's previous answer. That's awesome, isn't?
I was very surprised when Google voice was able to set alarms and reminders for me upon my voice commands. Even it gets me directions by opening Google Map on my android smart phone.
Google is not yet providing technical details on Hummingbird however they do mention that this a major overhaul to its engine since the 2009 "Caffeine" overhaul. There wasn't much details available from Google in terms of technical information.
These algorithm upgrades might be able to increase work for zillions of SEO dudes who are concerned about their website's ranking and search results. Keep in mind that the new algorithms are still following the previously released Panda and Penguin updates for Google search.
I am sure I might be lacking some information, but would appreciate if you guys can help me edit the article. Please feel free to drop your comments below.